Produce Your Own Clean Energy
Solar Panels can be installed to fit your home's architecture while turning sunlight into electricity. With a Solar Battery, energy collected during the day is stored and made available any time, effectively turning your home into a environmentally friendly power station. Install SolarEdge inverter and power optimizers for more energy, better maintenance, and enhanced safety. We can supply and install almost any solar related upgrade or device on the market today.
Power your Home with Solar
Solar panel electricity systems, also known as solar photovoltaics (PV), capture the sun's energy using photovoltaic cells. These cells don't need direct sunlight to work – they can still generate some electricity on a cloudy day. The cells convert the sunlight into electricity, which can be used to run household appliances and lighting.
David from Antrim tells us about his experience having solar panels installed by Solarfix. He saw a dramatic decrease of his household bills, especially since he is working from home. He also feels good that he is generating his own green electricity and not using as much grid energy that is potentially generated using fossil fuels.
Cut your carbon footprint
A typical home solar PV system could save over a tonne and a half of carbon dioxide per year – that's more than 30 tonnes over its lifetime.
Power your home with the solar energy and store excess in a battery storage solution to reduce your reliance on the grid and lower your electricity bill.
Sell electricity back to the grid
If your system is producing more electricity than you need, you can sell the surplus back to the grid through the Export Tariff.
Cut your electricity bills
Sunlight is free, so once you've paid for the initial installation, your electricity costs will be reduced.
Get solar started with
Q-Cells or REC Solar monocrystalline panels with 25 year product warranty

1 x Solis 3.6kw string inverter or Upgrade to a SolarEdge inverter for £700 more

Installation on tile or shed roof

All associated cables, meters, switches & mounting kit

NIE Paperwork/application

2 year workmanship warranty
4KW Prices


From £5,000

ex-VAT
VAT charged at 5% domestic or 0% new build. All prices include installation and MCS certificate.
Store your Solar with a Battery
Battery storage automatically provides homeowners with power when the sun goes down and certain models can provide backup power in case of grid interruption. It allows home owners to maximize self-consumption for maximum energy independence, because PV power is stored in a battery and used at night.
How a battery connects to your home
We have developed a more affordable battery solution using a Solis hybrid inverter and BYD battery modules.
Solar energy systems include PV panels and inverters. Traditional string inverters have a number of significant drawbacks. SolarEdge DC optimized inverters overcome these traditional concerns to offer more energy, better maintenance, and enhanced safety.
​
Power optimizers enable installation of:
​
Harvest extra power from varying panel tolerances

Panels in multiple orientations and different roof facets in a single string

Eliminate shading problems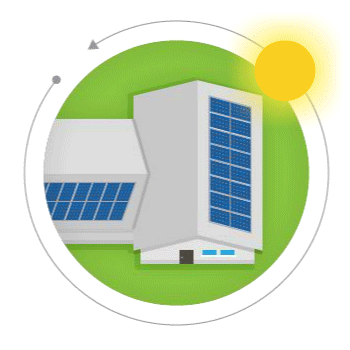 More modules on the roof. More power, More revenue & More aesthetic rooftops.
Real-time full insight to system from anywhere
Panel level performance monitoring & remote maintenance lead to:
​
Easy access via web browser and mobile device

Monitor the output of each panel individually

Advanced remote service tools included to allow faults to be identified & rectified remotely by us, thus reducing down time & future maintenance costs

Higher system uptime
Enabling Energy Independence
Combining SolarEdge's breakthrough PV inverter technology with leading battery storage systems, the StorEdge solution helps homeowners reduce their electricity bills while maximizing energy independence from the grid.​
​StorEdge is based on a single SolarEdge DC optimized inverter that manages and monitors PV production, consumption and storage. The StorEdge solution is compatible with high voltage batteries from LG Chem.
Note: We only repair and maintain systems installed by Solarfix
A properly installed solar panel system using good quality components should be relatively hassle-free but like any electronic equipment, solar panel systems are not immune to problems and if you find that any part of your solar panel system needs attention or if you would simply like a maintenance visit or full service for piece of mind, our team of experts are on hand to help.
We work alongside all manufacturers of solar equipment meaning if your panels or inverters are faulty and need replaced, as long as the equipment is still under manufacturer's warranty, we can source a warranty replacement from the manufacturer at no cost to you.
Inquire about Our Residential Products and Services
We'll connect you with a Solarfix advisor to learn more about your custom energy needs.